Thanks to today's advances in orthodontic technology, Lafayette Orthodontics can provide our patients with more options when it comes to wearing braces than ever before. While traditional metal braces are still widely used, clear braces are very popular with teens and adults who are self-conscious about wearing braces, along with Invisalign® removable aligners, the "braceless" alternative to straighten teeth. Dr. Osterman and his team will help you determine which treatment option is right for you.
Metal Braces
Traditional metal braces are the most common type of braces used today. They are smaller and more comfortable than ever before and constructed of biocompatible stainless steel. There are rubber ties that hold the main wire that connects the braces and with metal braces, you have the option of adding color ties of your choice for a more unique and colorful smile and those colors can be changed at each visit.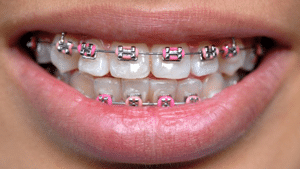 Clear Braces
Clear braces are made of ceramic and are therefore less visible on your teeth than metal braces. For this reason, clear braces are the smart choice for patients who want a great smile without it being obvious they are wearing braces. The clear rubber ties that hold the main wire that connects the braces can discolor if you eat certain foods (curry, mustard). Should that happen, give us a call, and we would be happy to put on new ties for you.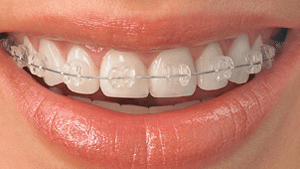 Clear Tooth Aligners
Clear aligners, such as Invisalign, use a series of clear, removable, and comfortable aligners to straighten your teeth. It is very difficult to see you are wearing those aligners because they are thin and clear! Invisalign aligners are removable so you are not limited in what you can eat and drink during treatment. Plus… brushing and flossing are less of a hassle. The aligners are comfortable and while there are small bumps of tooth-colored filling material on some teeth to deliver the desired movements, those bumps are less obtrusive than braces so aligners typically cause fewer mouth abrasions during treatment.